The Power Of Saying a "NO"!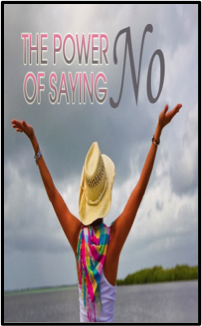 In order to reach your dreams and goals, you have to learn to get out of your comfort zones and say YES! to those things that make you happy and move you toward your goals.

Over the past 6 years, working with all kinds of clients, saying YES to every and any request, professional or social, exhausting myself, trying to be a "people pleaser", feeling frustrated, not having the work/life balance, time with kids, time for myself etc., one of the biggest lessons I have learned is the value of saying "NO".

To create the lifestyle you desire and deserve, its important to say YES, to those things that feel good and empower you, and NO to things that don't feel good and drain you out!

In the past I have said YES to the following. I am sure you can relate too.
Meeting up socially over a cup of coffee only to be spend your valuable time in unhealthy gossiping, and then feeling upset about why you bothered to go?

Spending time with a colleague/friend/ relative who laughs at your dreams and makes you doubt yourself.

Saying YES to a client who saps your energy and doesn't appreciate your talents and shows no respect for your boundaries.

Saying yes to lots of different social and professional commitments but having no time for what truly matters, your family, your kids, your parents, and YOU!
Every time you say YES to something that is NOT important, you say NO to something that is important. And saying YES to something you don't want leaves you frustrated, annoyed, upset, drained and serves no one!

Some of the benefits of saying a NO are:
Being able to set healthy boundaries for yourself

Earn the respect of others

Value yourself/ your time and stand up for yourself


Try NEW things


Not miss out on wonderful opportunities


Claim time for rest and relaxation


Decrease your stress level

Improve your health

Improve your productivity
Remember, you can't be all things to all things to all people. Know your priorities. Know your goals. Know what's important. And then say no to the rest. Saying NO, contrary to popular opinion, isn't the same as being selfish; it's about establishing boundaries. It's about self preservation. It's about balance. Also, when saying NO, be honest, be in your integrity and be compassionate.

Life is too short to fill it with things that aren't important and things that drain you! I Begin saying YES to things you truly desire. And as Paulo Coelho says "When you want something, the entire universe conspires to help you achieve it!
If you are feeling stuck saying NO to yourself, and feel like you need expert guidance and support, feel free to fill out my online survey www.eftthailand.com/survey and qualify for a Complimentary Assessment Session with me.
---
Would you like to connect with Shalini or explore working with her? Click here to complete the survey and start the process today!